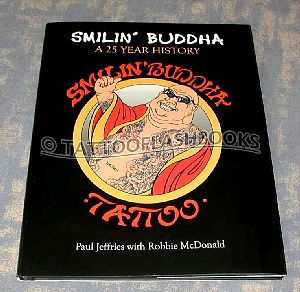 Click on an image to enlarge
SMILIN' BUDDHA TATTOO
A 25 Year History
by Paul Jeffries with Robbie McDonald
The book is hand autographed by Paul Jeffries.
What a cool and rare collectible book! This quality hardcover book, hand signed by Paul Jeffries, chronicles the last 25 years of the legendary Canadian tattoo artist and his shop Smilin' Buddha Tattoo.
The book takes you on an amazing tattoo journey all across the globe. It begins with Paul's early days as a motorcycle painter, to his run-ins with Yakuza in the 1980's while in Japan visiting tattoo legend Horiyoshi III. The book also journeys to numerous exotic locales like Tahiti for a fire walking ritual with Paul's friend Filip Leu and the Tahitian natives. It then journeys back to his current shop which is haunted by the troubled ghost of a biker dude who committed suicide by shooting himself in the back of the shop before Paul took over the location. You will be fascinated and enthralled by this book and will read it from cover to cover as soon as you open it.
The book also offers a unique perspective on tattooing by a great guy and great tattoo artist in the Western Japanese tradition. Paul has always been willing to share tattoo information with young tattooers, even back at a time when most experienced tattoo artists would either mislead or keep their tattoo methods a big secret . Paul's mission has always been about advancing the art and creating bold, strong tattoos for all. Not only is Paul Jeffries a legend in Canadian tattoo circles, but he is also legendary and known throughout the world!
Hardcover, measures approx 9" X 11 1/2". 95 pages with color and B&W photos throughout.
$49.99 USD
<! Paypal Add to Cart Button Code> <! End of Paypal Add to Cart Button Code> <! Paypal View Cart Button Code> <! Endo of Paypal View Cart Button Code>
---
<! End of item description>

<! begin item description area> <! item thumnail images (linked to full size)>