---
<! begin item description area> <! item thumnail images (linked to full size)>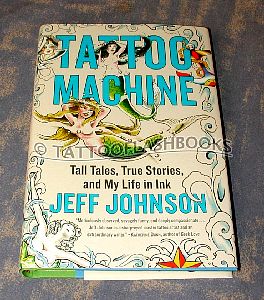 Click on an image to enlarge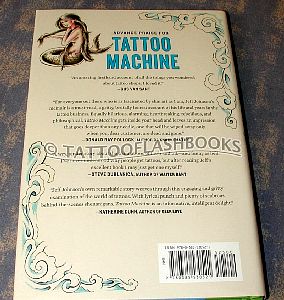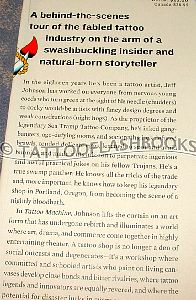 <! end item thumnail images (linked to full size)> <! descriptive text>
Tattoo Machine:
Tall Tales, True Stories, and My Life in Ink
by Jeff Johnson
There are NO PICTURES or artwork in this book.
Hardcover behind-the-scenes tour of the tattoo industry on the arm of a swashbuckling insider and natural-born storyteller. In the 18 years he's been a tattoo artist, Jeff Johnson has worked on everyone from nervous young coeds who turn green at the sight of his needle to cocky would-be artists with fancy design degrees and weak constitutions. As the proprietor of the legendary Sea Tramp Tattoo Company, he's inked gangbangers, age-defying moms, and sociopaths; he's defused brawls, tended delicate egos, learned to spot and avoid bunnies, and made it his mission to perpetrate ingenious and awful practical jokes on his fellow Trojans. In Tattoo Machine, Johnson lifts the curtain on an art form that has undergone rebirth and illuminates a world where art, drama, and commerce come together in highly entertaining theater. Discussing everything from his days as an apprentice to some of the greatest inkers in the trade to the incredibly vivid nightly spectacular over which he presides, Jeff Johnson has written a sometimes riotous, sometimes harrowing, and always riveting memoir about what it means to be on the front lines of a global art revolution.
"Tattoo Machine is meticulously observed, savagely funny, and deeply compassionate. It's a tale of up-from-under redemption through the shadowed art of personal symbolism. Jeff Johnson is a sharp-eyed master tattoo artist and an extraordinary writer." -Katherine Dunn, Geek Love. "An amazing firsthand account of all things you wondered about tattoo shops. I loved it." -Gus Van Sant.
Hardcover. 172 pages. 8" X 6"
Regular Price $24.99 USD
Sale Price: $14.99 USD
<! Paypal Add to Cart Button Code> <! End of Paypal Add to Cart Button Code> <! Paypal View Cart Button Code> <! Endo of Paypal View Cart Button Code>
---
<! End of item description>